All About Us
The business started when Peter, the owner decided to purchase a 14 seater commuter bus for private and business purposes.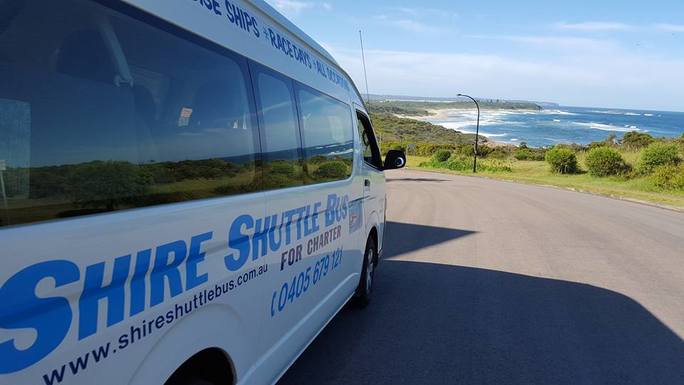 Peter knew he needed a people mover for when his children and grandchildren visited from Gosford and at the same time realised the possibility of creating a supplementary income by offering transport services on the weekend.
So, the idea was to purchase prepaid discounted entry tickets to Jamberoo Action Park and offer all inclusive ticket and transport option to Sutherland Shire residents and passengers that alighted from Albion Park railway station.
It took many hours of waiting at the station without result but eventually word of mouth, advertising and the adding as a transport option on Jamberoo Action Park website and things turned around and a business was born.
At that time Peter operated under the business name Fair Dinkum Tours. Things were looking up and Peter was preparing to leave his full-time booking keeping position at Sydenham and concentrate on his business endeavours when he received an email from Jamberoo Action Park administration asking him to cash in his remaining unused tickets and that he was no longer required at Jamberoo as they had a marketing arrangement with another company for next season.
Anyway instead of dwelling on what was lost Fair Dinkum Tours was re-invented under name Shire Shuttle Bus. The name came from a conversation that was had with John, a former work colleague. He made a valid point by stating "you live local and the people in the Shire love to do business with local operators". He commented further saying "the business name should reflect that you are from the shire." His advice was taken and with his input the name came to life.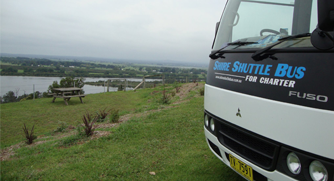 Being based in the Shire – (Cronulla and Miranda) the aim has been to service Sutherland Shire residents. This has worked well for us as when we on the return leg of Airport, Cruise Ships & Wharf 8 and Race Days jobs we know we will arrive in "God's Country", The Shire – our home base.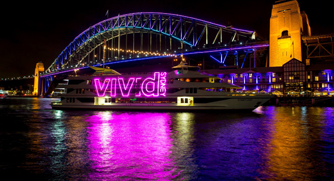 Originally Peter kept his job as a bookkeeper – 4 days a week. He returned all the phone messages at lunch time and after work. This was far from ideal and booked jobs had to be prior 9.00am and after 5.00pm weekdays and anytime weekends.
Luckily things were to change when he met Ian at a petrol station near Sydney airport. During the conversation Peter asked Ian, a Sutherland shire resident over 30 years, bus driver, former business owner and ex-motor mechanic if he could cover some hours due to his work commitments as a bookkeeper. Ian agreed and as time went on Peter met Ian's wife Shirley who kindly offered to answer the phone on a volunteer basis. Once Shirley had the phone her professional, friendly manner and with the telephone calls being answered immediately led to a major boost in booked jobs. Customers continued to come back and a customer base was developed.

Peter left his bookkeeping job and now his full attention was on Shire Shuttle Bus. Shirley being on top of her game kept notes on clients that requested a larger bus Eg weddings, functions etc, with that information at hand and Ian's experience in all things mechanical we made the bold decision to buy a 25 seater Rosa bus 2007 model.
This increased our overall seating capacity to 37 seats. We are a tight group at Shire Shuttle Bus and recently Simon, Peter's son had been included. He needed to upgrade his license to MR and obtain a Bus Authority. Simon travels down from Gosford to cover extra weekend jobs with Peter. Our structure is always improving and with our customers support we will continue to grow.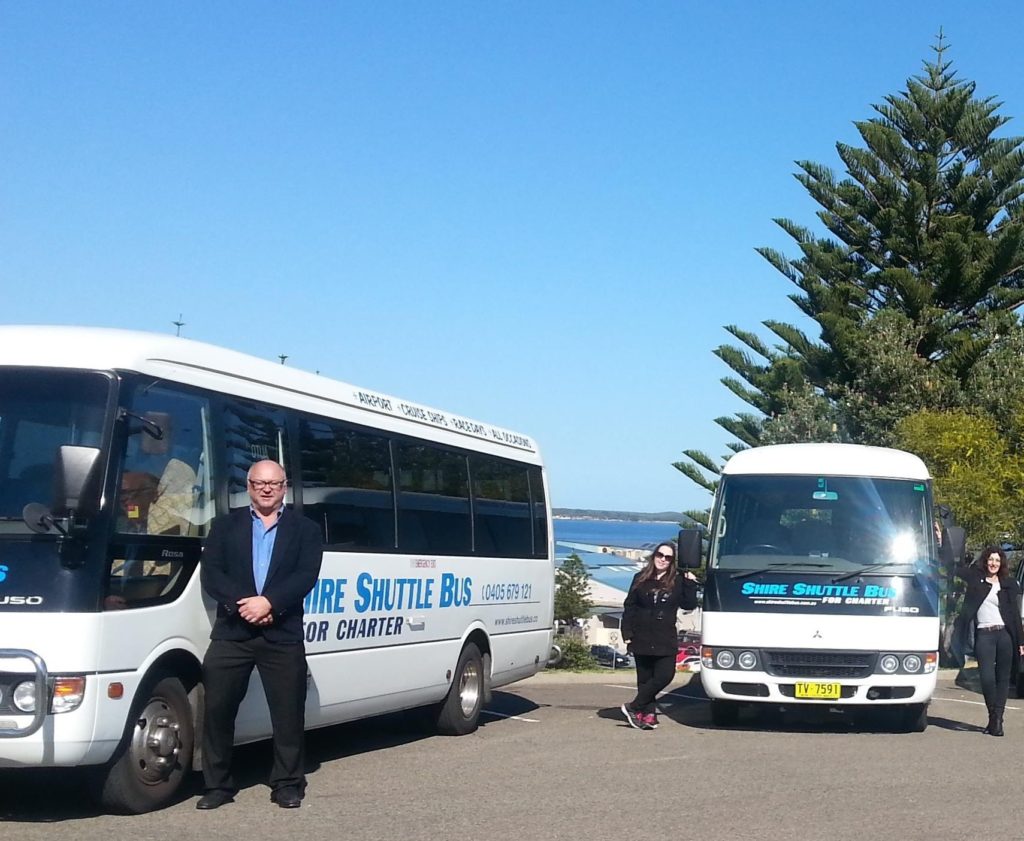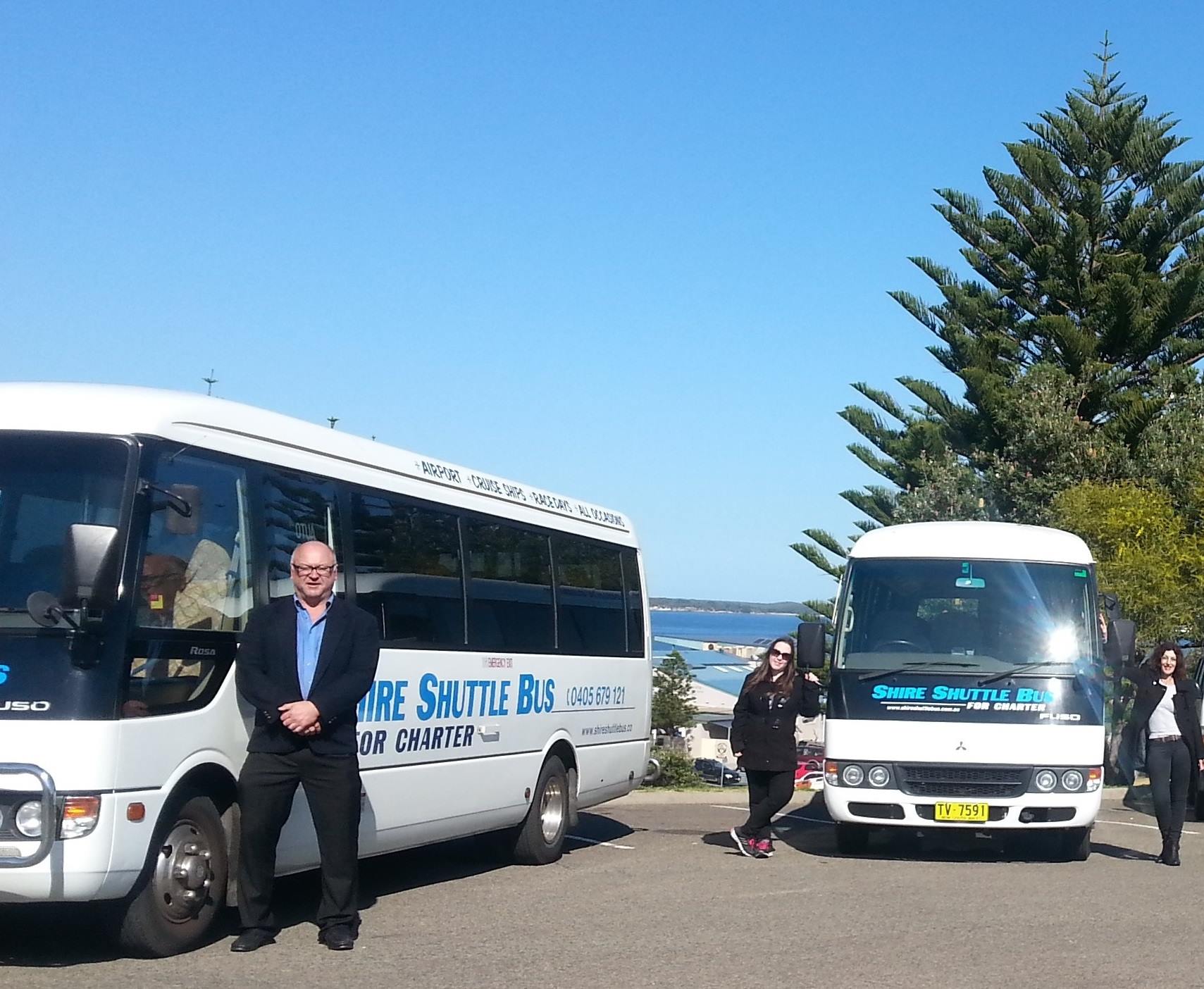 Today we operate with nine buses, consisting of four 25 seater rosas, two 14 seater commuters,  one 12 seater commuter, one 9 seater Hyundai, one 8 seater Hyundai and five luggage trailers. All our buses are fully seat-belted and air-conditioned, plus have cloth seats. Our luggage trailers are available in various sizes and are all enclosed and carpeted. We also provide a wide range of seating for children, including baby capsules for 0-6 months, baby seats for 6 months-4 years, and booster seats for 4-7 years. We have access to larger buses upon request. We are based in Cronulla.
We are a family business and strive to provide the best service to our customers to make you feel as comfortable as possible. Please don't hesitate to contact us for any of your transportation needs.
Shuttle Buses for All Occasions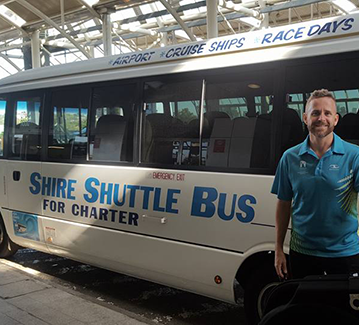 We  provide transport options in the Sutherland Shire, St George Shire, Campbelltown, Appin and Wollongong areas. Our transport solutions cater for a wide range of functions including weddings, parties, dinners or nights out in the city.
Airport Shuttle and City Transfers
Excess or Oversized Luggage Catered
Drop Offs and Pick Ups Sydney Wide
Fully Licensed for Parties / Weddings
Air Conditioned – Safe and Reliable
Fully Seat Belted and Clothed Seats
Enclosed Carpeted Luggage Trailers
Airport Transfers, Wine Tours, Events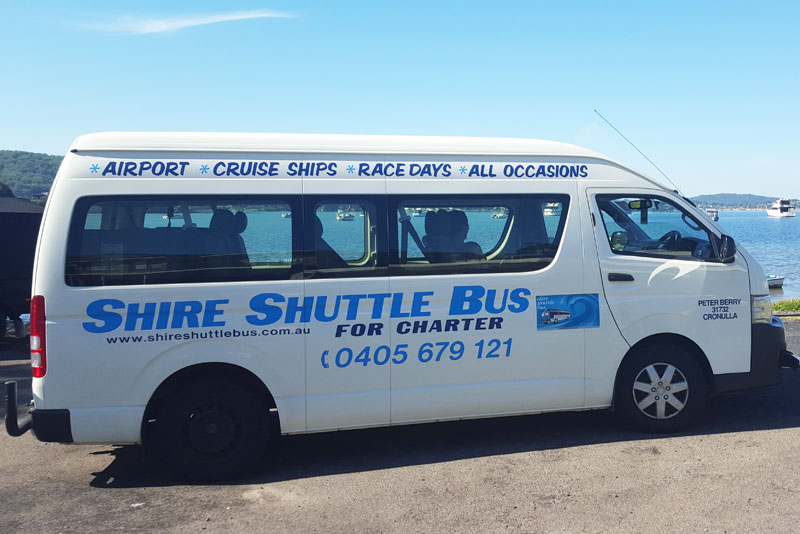 With our superior reliability and flexibility, all of our buses are well maintained and presented and drivers are always polite and friendly. We are a family business based out of Cronulla and operate in the Sutherland Shire, St. George Shire, Campbelltown, Appin and Wollongong areas.
We are available to drive at almost any hour of the day you require, and we can provide transport to and from the Sutherland Shire at any time of day contact us today…